Does anyone else find it strikingly stupid of Bobby Jindal to use a story about the government's response after Hurricane Katrina to prove we can't depend on the government when that government was The Republicans?
Oh Good - Rachel Maddow is stunned speechless, and Chris Matthew is so outraged the words are spitting out of his mouth. I can rest easy tonight knowing all's right with the world for the moment.
It's kind of funny, though, that the Republicans trotted out a dark skinned man with big ears who is just as stupid as George W. Bush as if Jindal is Bizarro Barack. If Jindal's speech tonight is any indication of what we can expect from the Republicans as we approach 2012, then we will see new and absurd heights reached in Synapse Lapse.
Hopefully, by 2011 America will be safely on a new path when we watch Sarah Palin debate Bobby Jindal to determine who will be the Republican presidential candidate. I wonder if Bobby Jindal believes dinosaurs and humans lived together like on
The Flinstones
too.
One particular thing did occur to me during Obama's address to Congress when he said America will not torture: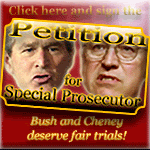 A rousing speech before Congress and The World is all well and good, but if we are to really demand accountibility then a serious investigation into Dick Cheney is in order. Several Wall Streeters and Bankers need to go to jail as well. Andrew Cuomo was supposed to be working on that.
I still cry tears of joy when listening to Obama speak because it's a relief to be saved from our certain descent into Idiocracy in this country. I have faith, hope and all that. Nevertheless, accountibility can't simply apply from this day forward. If this day is truly a reckoning, then prosecutors need to get busy.